New sponsor helps Discovery Museum reduce its carbon footprint
07 October 2021
"We're really looking forward to making a start in the heart of Newcastle at Discovery Museum and building our relationship with TWAM." Gary Rudd, founder and director of LED Supply & Fit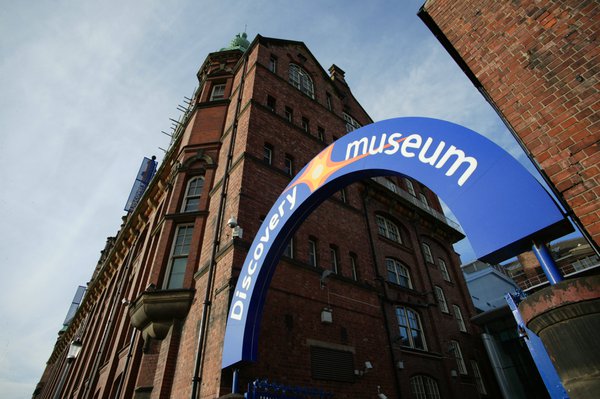 Discovery Museum in Newcastle is about to install new more environmentally friendly LED lighting systems in its galleries courtesy of Tyne & Wear Archives & Museums' (TWAM) new sponsor LED Supply & Fit, based in Newton Aycliffe.
LED Supply & Fit, founded by Spennymoor electrician Gary Rudd, offer a bespoke service as they calculate energy usage and annual carbon emissions for up to ten years, ensuring the cheapest and most environmentally friendly lighting solutions.
Gary Rudd, founder and director of LED Supply & Fit said:
"LED lighting is brighter, cheaper and flexible, and can be dimmed accordingly; it runs much cooler so is safer. The equipment lasts much longer because it is not affected by the heat which halogens emit. Using lower wattage can save up to 60-90% in energy.
"We're very proud to support the region's amazing heritage and art galleries and support them to make the most of their assets and save money at the same time. LED equipment comes with warranties and requires no maintenance; the quality of light is also much better, affecting mood so maximising visitor and staff welfare."
"We're really looking forward to making a start in the heart of Newcastle at Discovery Museum and building our relationship with TWAM."
Effective lighting is crucial for museums and art galleries; expert conservators continuously monitor every gallery space to ensure light levels do not erode or damage delicate works of art and objects on display.
Keith Merrin, Director of TWAM said:
"We are always looking for new ways to improve our energy consumption and reduce carbon emissions.
"Tyne & Wear Archives & Museums is already part of the national Arts Council and Julie's Bicycle's spotlight programme to reduce carbon emissions. This new sponsorship strengthens our commitment to making long term changes.
"We are very grateful to LED Supply & Fit for their support."
TWAM is a National Portfolio Organisation (NPO) and committed member of Julie's Bicycle, Arts Council England (ACE) environmental partner. Its Spotlight group which started in 2018 offers targeted support to a small number of the largest NPOs – which includes TWAM - who are responsible for half the portfolio's total carbon emissions, helping them reduce their environmental impact.
The Spotlight group (which also includes the National Theatre and the Royal Opera House) is the first cluster of major cultural organisations to set decarbonisation targets, in order to reach net zero carbon and has reduced its energy use emissions by 18% in 2019/20.