These are Our Treasures opens at the Laing Art Gallery
02 August 2022
Personal objects belonging to people of the North East go on display at the Laing Art Gallery, Newcastle upon Tyne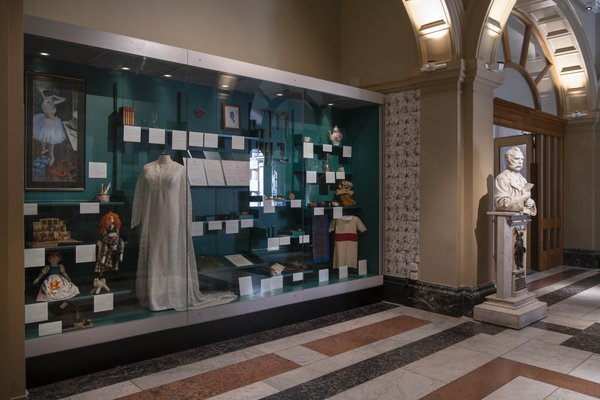 A display of precious personal objects belonging to the people of the North East is now on display at the Laing Art Gallery's Marble Hall from 30 July 2022 – 11 February 2023.

Developed by artist Ruth Ewan, These are Our Treasures is a National Lottery Heritage Fund supported project created in response to the Lindisfarne Gospels.
The Lindisfarne Gospels will be on display at the Laing Art Gallery from 17 September to 3 December 2022, on loan from the British Library.
The objects and their related stories were gathered when Ruth Ewan asked the question, 'What do you treasure?' through a series of workshops in libraries across the region, as well as a public open call throughout the spring.
Over two hundred submissions were received and this final display offers just a diverse cross section.
One of the objects on display is a bar of soap, with a French maker's name, on loan from Jean in North Shields: "This soap was used for my father's first bath in 1904...it was wrapped up carefully and forgotten about. My grandfather was a hairdresser/wigmaker on North Shields Fish Quay so he probably had access to 'foreign' imports. Sadly, I never met him."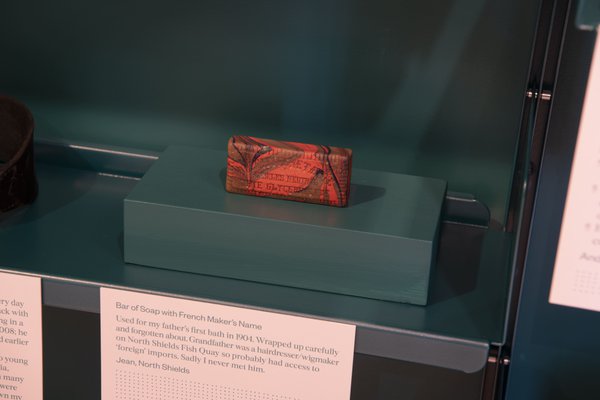 Katie, from Boldon in South Tyneside, lent a medical feeding tube and peg: "I treasure the memory of my baby brother arriving. My family fostered and now cares for him long term. He is four and is fed through a tube. When he arrived, I learned how to care for him. The object is important to me as it represents a time in my life where I was given a role to care for someone who I was not related to. This experience has altered my journey in life, both in a positive and negative way, but ultimately it has changed my outlook on most things. I have become more empathetic and understanding and I treasure that person who I have become because of this 'object', memory, situation. Advocating for someone else's needs."
Austin (age 8), from Whitley Bay, lent his fossil collection: "My fossil collection is made up of finds from Whitley Bay beach and one special fossil given to me by my granny. I find fossils fascinating! They're so old and the process of discovering them is very exciting. I love going down to the beach with my fossil hammer and smashing stones open to see what might be inside. I wear safety glasses during this process to protect my eyes. There are lots of fossils on Whitley Bay beach... If a rock has white spots or stripes in its surface, it is a good sign a fossil might be inside!"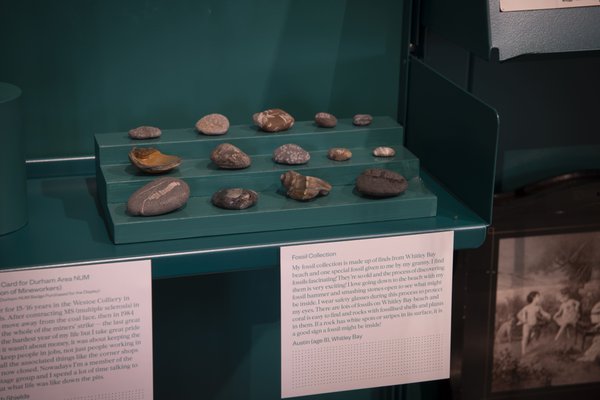 Alan, from Horsley, submitted a red silk handkerchief: "The handkerchief was made by my mother as a gift for the pocket of her then boyfriend, and much later my father, Harry Holmes. At the time she was working for an elite dressmaker in Newcastle. She asked permission to use a remnant of the offcuts of the bale. That remnant had the identifying legend in gold paint stating, in code, the origin of the bale, the length, the quality etc. Minnie Van De Velde agreed to let her have the legend but that she could only make the handkerchief in her own time and that she should pay for the thread and binding she used. It reminds me of my heritage, of the responsibilities my mother took on when her own mother died in the early 1900s when the family left Scotland to move to Newcastle. This small red handkerchief evokes much of my own family history and of the social history of the times. "

At times funny, at times poignant, and always deeply moving, the objects and their associated stories form an unconventional museum display revealing local hidden histories.
Although seemingly different, these treasures have much in common. Objects that are passed on, shared, made or found are treasured over what is bought. They reflect our cultural heritage and working lives and, perhaps most powerfully, speak of our treasured relationships with one another. Some are not an object at all, they represent an intangible treasure such as a feeling, a way of being or a memory.
Ruth Ewan said: "It's been a pleasure to hear the stories people have shared as part of These are Our Treasures. I've been genuinely moved by the emotional generosity of the participants and the willingness of people to share these objects."
Julie Milne, Chief Curator of Art Galleries at Tyne & Wear Archives & Museums, said: "We would like to thank everyone who has contributed to this project – it has been fascinating to hear so many unique, captivating stories that have explored the true value hidden within the objects of our lives."
David Renwick, Director of England, North at The National Lottery Heritage Fund said: "Heritage is a great way of bringing people together, and we're delighted to have been able to support These Are Our Treasures to share these special stories from people across the North East. Thanks to money raised by National Lottery players, we hope the project has helped local people better understand their heritage and history and will in turn help others discover their own."
These are Our Treasures is free to visit and will be on display until 11 February 2023.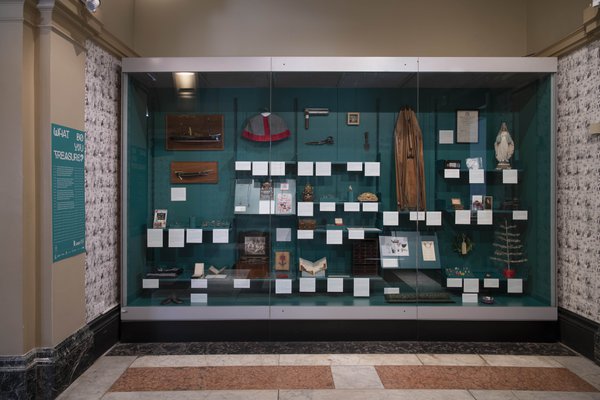 The Lindisfarne Gospels will feature in an exhibition about its meaning in the world today and its relationship with themes of personal, regional and national identity. Created on the Holy Island of Lindisfarne, the book represents the golden age of design and craftsmanship in Northumbria and has survived in almost perfect condition for over one thousand years.

The exhibition will begin with an immersive digital experience and include a stunning selection of early medieval treasures brought together from across Britain, representing both personal and collective religious experiences in the 8th century. A selection of paintings, drawings and photographs will further explore how art and spirituality have developed in the centuries since the Lindisfarne Gospels were created.
Throughout 2022 attractions across the North East are hosting events inspired by the Lindisfarne Gospels in celebration of its display at the Laing Art Gallery in autumn 2022.

The Lindisfarne Gospels exhibition is sponsored by Ad Gefrin Visitor Experience and Distillery, which will open in Wooler in Spring 2023 and bring to life the hidden history of the 7th Century Anglo Saxon royal summer palace of the Northumbrian Kings and Queens discovered at Yeavering only four miles away – one of the 20th century's most remarkable archaeological finds.
The Laing Art Gallery is also grateful for support from The North of Tyne Combined Authority (NTCA), The Barbour Foundation, Garfield Weston Foundation, The Headley Trust, The Kirby Laing Foundation, and sponsors, Fergusons Ltd and Tyne and Wear Metro.
Photography by Colin Davison