Double award win for Museum and Metro partnership
06 December 2022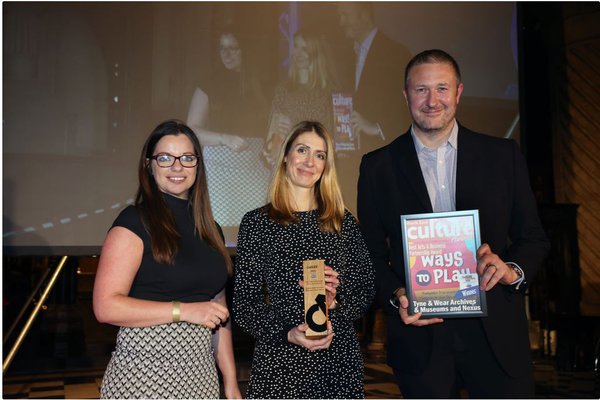 A partnership between Tyne & Wear Archives & museums (TWAM) and Nexus (the public body which owns and manages Tyne & Wear Metro) to offer families good value, high-quality days out has now won two Awards.

Tyne & Wear Archives & Museums' (TWAM) and Nexus were awarded the Best Arts and Business Partnership at the North East Culture Awards on 15 November and the Not for Profit Marketing Award at the North East Marketing Awards on 1 December.
TWAM launched Ways to Play, a programme of free family events in school holidays across its nine museums and art galleries in summer 2021. Ways to Play is sponsored by Nexus and encourages families to use Metro's Take the Kids for Free initiative to travel to the museum.
As partners TWAM and Nexus are aiming to play a role in tackling some of the inequalities caused by poverty by making visits to museums and galleries more convenient and affordable.
Museum footfall and passenger numbers have both increased since the partnership began. Museum footfall is up 20% and there has been an increase in the percentage of people visiting with children at most of Tyne and Wear Archives and Museum venues – the most notable increases were at Stephenson Steam Railway where family visits were up 19% compared to 2019-20 and South Shields Museum & Art Gallery where family visits increased by 11% compared to 2019-20.
Keith Merrin, Director of Tyne & Wear Archives & Museums, said:
"These awards recognise how much more can be achieved when working in partnership with another organisation with similar values and objectives. Both TWAM and Nexus want to support and develop our family market and with the worrying statistic that 38% of children in the North East are living in poverty, the highest in the country, we believe that together we can break down costly barriers for families so that they can enjoy cultural experiences and days out."
David Turton, Marketing Services Manager, Nexus said:
"Working with Tyne & Wear Archives & Museums has provided Nexus with a truly impactful way of reaching customers. Following the pandemic lockdowns, we embarked on a partnership that meant our ambitions and objectives could be met by combining messages and campaigns, encouraging more public transport journeys while also breaking down barriers to families accessing arts and culture. By working with TWAM's unique venues and dedicated team, we were able to increase our customer numbers all while enjoying synergy with an organisation whose values mirror our own."

The 'Ways to Play' event programme, sponsored by Tyne and Wear Metro, is delivered at the Great North Museum: Hancock, Laing Art Gallery and Discovery Museum in Newcastle; at Arbeia, South Shields Roman Fort, South Shields Museum & Art Gallery, Wallsend's Segedunum Roman Fort, North Shields' Stephenson Steam Railway and Gateshead's Shipley Art Gallery.
If you are interested in sponsoring our programmes or services please contact Nigel Alston-Phillips.
Image above: (L-R) Sophie Barley, Editor of Chronicle Live, Sheryl McGregor, Head of Communications at Tyne & Wear Archives & Museums, David Turton, Marketing Services Manager at Nexus.