Countdown begins for 'National Treasure' J.M.W Turner painting to go on display
10 May 2023
Countdown begins for 'National Treasure' J.M.W Turner painting to go on display at the Laing Art Gallery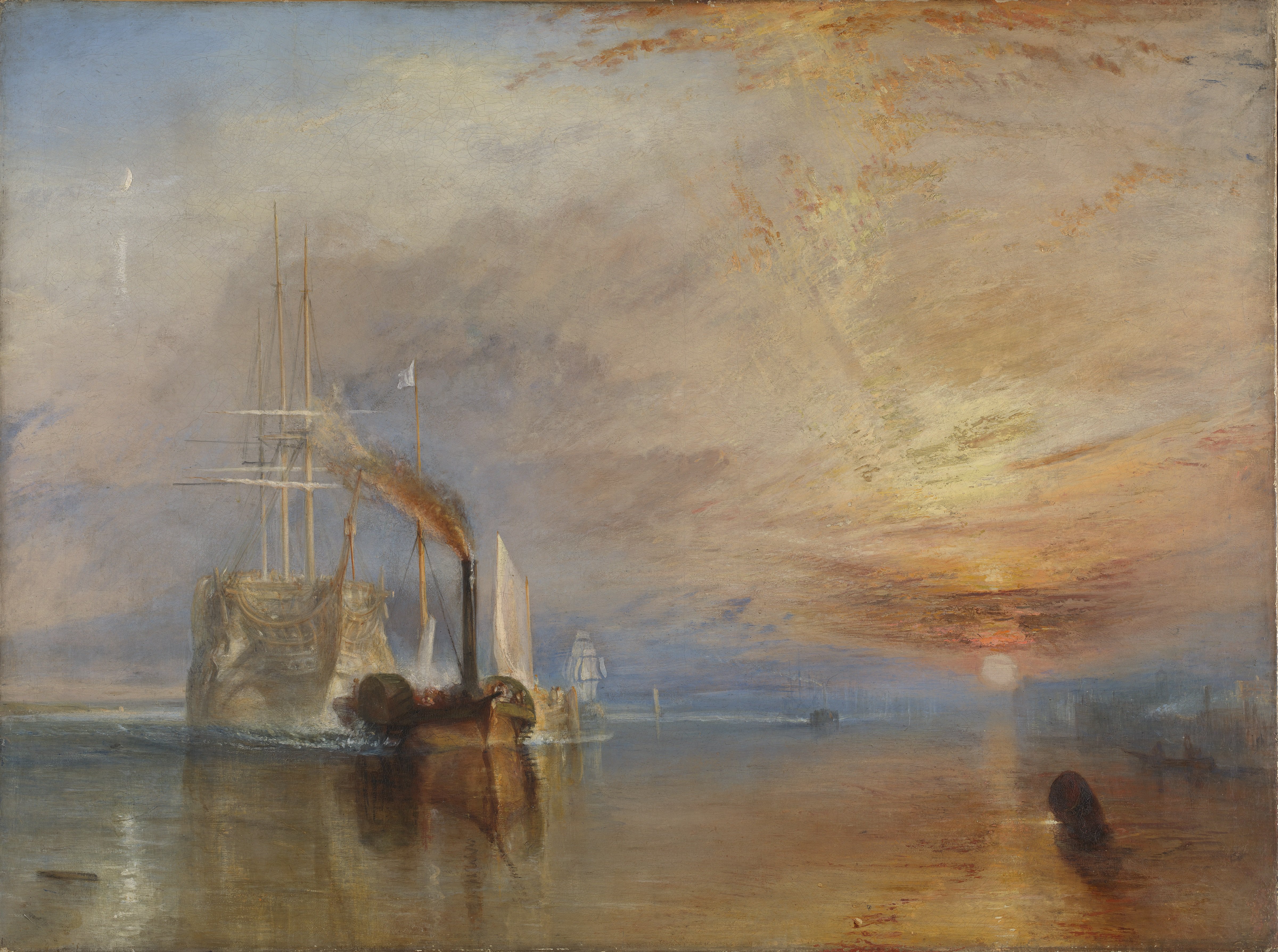 'The Fighting Temeraire' will go on display a year from today, on loan from the National Gallery

It is exactly one year until Turner's The Fighting Temeraire (1839) will be on public display at Newcastle's Laing Art Gallery, from 10 May until 7 September 2024.

The Laing Art Gallery is one of twelve partners taking part in National Treasures, twelve displays of loaned paintings all opening on 10 May 2024, the 200th birthday of the National Gallery.

Painted by one of Britain's greatest and most prolific painters, Joseph Mallord William Turner (1775-1851), The Fighting Temeraire will feature in a wider exhibition centred around themes of art, industry and nostalgia linking to the rise of steam power and industry in Britain of particular relevance to the North East with ship building still very much part of the identity of the region.

The Fighting Temeraire, regarded as being one of the artist's best-known works, is a tribute to the ship HMS Temeraire, which played a distinguished role in Lord Nelson's victory at The Battle of Trafalgar in 1805. The painting shows the final journey of the ship as it is towed along the river Thames by a modern paddle-wheel steam tug in 1838, towards its final berth in Rotherhithe to be broken up for scrap.

While Turner may not have based his steam boat on a specific vessel, it is particularly pertinent to the North East and its industrial heritage that the two steam tug boats that pulled the Temeraire in reality – the Samson and the London – were manufactured on Tyneside.

It was voted as the nation's favourite painting in a 2005 poll run by BBC Radio 4, and features on the polymer £20 bank note, which went into circulation in 2020.

Julie Milne, Chief Curator of Art Galleries at Tyne & Wear Archives & Museums, says: "We are delighted to be working towards the National Gallery's 200th anniversary celebrations and have now reached the landmark of only one year to go until we showcase one of Turner's greatest masterpieces at the Laing Art Gallery. It is indeed a 'National Treasure' - The Fighting Temeraire in Newcastle provides us with the opportunity to connect with people's shared histories and lived experience, to celebrate our cultural heritage and reflect on what is important to us individually and collectively."

National Treasures is a key strand of the National Gallery's programme celebrating the Gallery's Bicentenary. Each partner venue will receive a masterpiece from the Gallery's collection and will curate around it, involving interpretation, community engagement and events, or exhibitions. For the duration of the displays, 35 million people - more than half the UK population - will be within an hour's journey of a National Gallery masterpiece.

As part of National Treasures, the partners and the paintings they are receiving are:

• Ashmolean Museum, Oxford, The Wilton Diptych (about 1395-9)
• Brighton Museum and Art Gallery, Self Portrait at the Age of 34 (1640), Rembrandt (1606-1669)
• Bristol Museum and Art Gallery, The Hay Wain (1821), John Constable (1776-1837)
• The Fitzwilliam Museum, Cambridge, Venus and Mars (about 1485), Sandro Botticelli (about 1445-1510)
• Ikon Gallery, Birmingham, Self Portrait as Saint Catherine of Alexandria (about 1615-17), Artemisia Gentileschi (1593-1654 or later)
• Laing Art Gallery, Newcastle, The Fighting Temeraire (1839), Joseph Mallord William Turner (1775-1851)
• Leicester Museum and Art Gallery, The Umbrellas (about 1881-6), Pierre-Auguste Renoir (1841-1919)
• The National Library of Wales, Aberystwyth, The Stonemason's Yard (about 1725), Canaletto (1697-1768)
• Scottish National Gallery, Edinburgh, A Young Woman standing at a Virginal (about 1670-2), Johannes Vermeer (1632-1675)
• Ulster Museum, Belfast, The Supper at Emmaus (1601), Michelangelo Merisi da Caravaggio (1571-1610)
• Walker Art Gallery, Liverpool, The Rokeby Venus (1647-51), Diego Velázquez (1599-1660)
• York Art Gallery, The Water-Lily Pond (1899), Claude Monet (1840-1926)

The opening of National Treasures around the UK kickstarts a year of Bicentenary celebrations, where three strands of activities showcase the Gallery across the nation; to the community in Trafalgar Square; and to virtual visitors around the world. The ambitious programme showcases the breadth of skill and creativity in the UK cultural sector, and is just as much about looking ahead to the next 200 years in the Gallery's future as it is about celebrating its past. Concluding the celebrations in May 2025 will be the opening of the new Sainsbury Wing developments in Trafalgar Square.

Christine Riding, Director of Collections and Research, says, "We thought carefully about where to send these most iconic and well-loved paintings in our collection. As well as being able to look after these works to an extremely high standard, we approached our partners for National Treasures because of their exciting ideas and brilliant reputations within their community. We are very excited to see the interpretation and audiences that our partners will bring to these most treasured paintings."

Gabriele Finaldi, Director of the National Gallery, says, "In our Bicentenary year, we want to reaffirm our role as the nation's gallery. Our collection belongs to the UK public and we're very pleased to work with such an exciting range of partner venues to help realise this. These exhibitions provide a unique opportunity for people all over the country to see up close some of the greatest works from the history of Western art – and we hope that many visitors will discover their local museums and be inspired to visit us in Trafalgar Square to see even more of our collection."

Arts and Heritage Minister, Lord Parkinson of Whitley Bay, says, "Everyone should have access to our country's great treasures, no matter where they live. I'm delighted that these masterpieces will be going on display in galleries across the country so more people can enjoy and be inspired by the National Gallery's world-class collections."